5 Super Crucial Vocal EQ Tips + Vocal EQ Cheat Sheet
What we're going to learn from this article?
This is an important issue. We'll go into everything you need to know about the Human Hearing Range, the components of an EQ, the various types of EQ, the best way to EQ vocals for both men and women, and other important tips.
What is EQ or Equalization?
To begin with, learning our tools is an important part of our work. So, to get a better understanding of the EQ, let's look at it in detail.
What is Equalisation? 
The method of altering the balance of different frequency components in an audio signal is known as EQ (or equalization). EQ, in a nutshell, is a method that allows you to boost or cut particular frequencies.
It's one of the most critical methods we have for balancing out unbalanced frequencies and shaping sounds. For audio engineers, EQ is playing a huge role. It's so critical to the method that you're probably spending the majority of your time mixing music tweaking EQ plugins.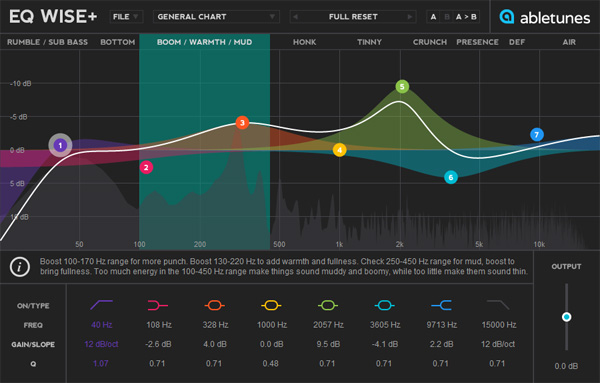 Let's learn about our hearing range before diving further into the subject of EQ Vocals.
Humans can detect sounds in the 20 Hz to 20 kHz frequency range. Although human babies can hear frequencies slightly higher than 20 kHz,  they grow older, they lose some high-frequency sensitivity; typical adults' upper limit is generally closer to 15–17 kHz.)
Check out the video below to check your hearing. (Do not listen with loud volume)
EQs are available in a variety of formats, including plugins & hardware, and a producer can use more than one type in a single mix. 
The following are the various forms of audio EQs:
* When you break down the settings of each EQ band, you'll find that they all apply to simple filter characteristics like Form, Slope, Q, and Gain.
Filters can completely change the tone of any audio and are most commonly used to eliminate frequencies. However, filters can also be used to improve and boost existing frequencies because once a frequency spectrum has been separated, it can be boosted.
The EQ band's general shape is determined by the filter type. Such as HP/LP Filter, Bell, Low/High Shelf, Notch, Band Pass, Tilt Shelf, and Flat Tilt. Check out the video to see how different filters looks like. 
The slope is expressed in decibels (dB) per octave. The greater the number, the steeper the drop off around the filter's corner frequency. Although some advanced digital EQs can create slopes of up to 96db/octave, slopes of 6db/octave to 24db/octave are common.
Although most people associate filter slope with HPF and LPF types, some modern EQs let you choose the slope of bell or shelving bands as well.
With a low-pass filter, create gentle, transparent low-end roll-off with less severe slopes like 6 or 12 dB/octave. For aggressive filtering at precise frequencies, use sharper cut-offs like 24 and 48 dB/octave.
Q – also called "Q Factor",  stands for "Quality Factor", defining the bandwidth of frequencies that will be affected by an equalizer. It's similar to the "bandwidth" of an EQ band.
EQ curves with Q values less than 1 will be broader, while those with Q values greater than 1 will be tighter, more selective boosts or cuts.
The amount of boost or cut you use in your EQ is determined by gain. It's in decibels (dB). A boost is indicated by positive gain values, while a cut is indicated by negative gains. EQ adjustments affect your signal's overall gain.
The frequency parameter is where your EQ band's action is centered. The range in which boosts or cuts can occur is determined by this regulation.
An EQ band will always affect a range of frequencies around the target, no matter how tight you set your Q or how steep you make your slope.
5 Super Crucial Vocal EQ Tips + Vocal EQ Cheat Sheet
When I first began my career as a Mixing Engineer, one of the subjects I struggled with was EQing Vocal. My problems could be split into two categories if I had to categorize them.
Listening skills
Over-processing
After years of working and practicing, I understood my problems and tried to fix them. What I did was follow some general rules, learn the frequency ranges of different instruments and vocals and try to do less.
Before that, I was adding three or more EQs to try and solve the issue I had created earlier. The biggest letdown came when I turned off the processing and discovered that the vocals sounded better without my inserts. I felt like giving up at times. I'm sure some of you have or have had the same problem. So I hope this article has helped you. 
Let's start with the Vocal Cheat Sheet we promised earlier, and then we'll get into more specifics.
1. Vocal Cheat Sheet for (Male & Female)
EQ Vocal Cheat Sheet (Female)
100 Hz
250 Hz
900 Hz
3 kHz
6.5 kHz
10 kHz
100 Hz
Low-End (<100 Hz)
Take away everything below 100 Hz using a high-pass filter with a 24 dB/octave slope. This cleans up any problem frequencies like mic stand rumble, air popping, and other low-frequency noises.
On background vocals, you can use a lower slope of 12 dB/octave HPF and place it around 400 to 500 Hz to free up the low end and clean up your mix substantially.
250 Hz
900 Hz
3 kHz
6.5 kHz
10 kHz
EQ Vocal Cheat Sheet (Male)
80 Hz
200 Hz
900 Hz
2 kHz
6 kHz
10 kHz
80 Hz
Low-End (<80 Hz)
Use a high-pass filter around 80 Hz with a 12 or 24 dB per octave slope cleans up many problem frequencies like mic stand rumble, air popping and other low-frequency noises.
200 Hz
900 Hz
2 kHz
6 kHz
10 kHz
Though it should seem self-evident, this is the inevitable first step in EQing Vocals. There will be no two vocalists that sound exactly alike. Depending on a number of factors, the timbre of the takes given for the lead can vary dramatically. Without first listening to the vocal, not only for a few seconds but for the entirety of the song, it's impossible to make any decisions about how to EQ it. If you like, write down ideas on a notepad, or simply listen. 
3. Check your vocal in context
Make sure your vocal doesn't interfere with other critical elements like the snare drum or a main harmonic instrument. Many of us use our ears to carve out space, soloing the vocal with the troublesome instrument to better isolate the problems and make the necessary decisions. Don't limit yourself to Solo EQing or processing. It's good to Solo the track to resolve some problems but try to EQ the vocals in context.
You should be familiar with your microphone. Each microphone has a unique frequency response, and it might surprise you to learn that even the same singer can sound slightly different in different microphones.
I strongly encourage you to familiarise yourself with the microphone you want to use or that was used to record the vocal in your session. When it comes to EQing the vocal, this will save you a lot of time.
Here are some examples. 
5. Check your Vocal in context in "MONO"
My final advice to you is to check your whole mix in Mono, and EQ the problematic frequencies. When listening in mono, relative levels may become visible. This would be easy to hear if a vocal conflicts with a snare or if the guitars congest the mix.
When listening in mono, adjust the relative levels or some EQ adjustments. After that, listen to your mix in stereo. This will result in a balanced and mono-compatible large stereo picture.