In this article, we are going to take a look at 'Sounddevice Digital – FRONT DAW' by United Plugins.
United Plugins is a group of developers and artists that use their combined music industry expertise to produce intelligent, powerful, and accessible music production software.
Several well-known brands, including FireSonic, Soundevice Digital, JMG Sound, Muramasa, Instant Audio, and MeldaProduction, have partnered with United Plugin.
Soundevice Digital has a long history of creating tools and replicas of antique studio equipment. Boris Carloff's Prague SounDevice Studio is the source of all the concepts for Soundevice Digital.
Let's learn more about "Soundevice Digital – Front DAW" by United Plugins.
Greg Brimson, a well-known British producer, remixer, and musician, came up with the concept of the 'Front DAW' as the front entry of your recording application as a result of his long-term need for the old-school analog sound in his DAW.
FRONT DAW - "3 Console Emulations In 1!"
Front DAW is an affordable analog console emulation, saturation, and gain plugin, designed to be the first plug-in all of your tracks or buses & it's very light on the CPU, so you can run it freely without any worries about the CUP usage.
This plug-in is for Mac and Windows, and it's compatible with VST, VST3, AAX, and AU formats and it works at sample rates in excess of 192kHz.
The Front DAW provides 3 different emulations such as British, US, and German tubes,s and has a very user-friendly UI.
Because of the VARM (Variable Analogue Random Modeling Technology – which was also used previously on their Royal Compressor plugin), each track would sound slightly different even with identical settings.
FRONT DAW - "Controls and UI"
As you can see, the UI is pretty straightforward. You've got the 'Input Gain' which allows you to drive an input signal.
'Three Console Modulations' which I guess you can tell what are they modeled from, a 'High Pass Filter' to cut frequencies from (20 – 500 Hz), the 'Mojo' control, which controls how much color is going to the signal, and finally, you'll have your 'Output Gain Fader'.
The UI size is adjustable and you can change the scale by grabbing the right bottom arrow, and change it as you like.
As you drive the signal to this plugin you'll see behind the "Sound Device Digital Logo" is getting brighter when you add more distortions and lighter when it's less saturating the signal.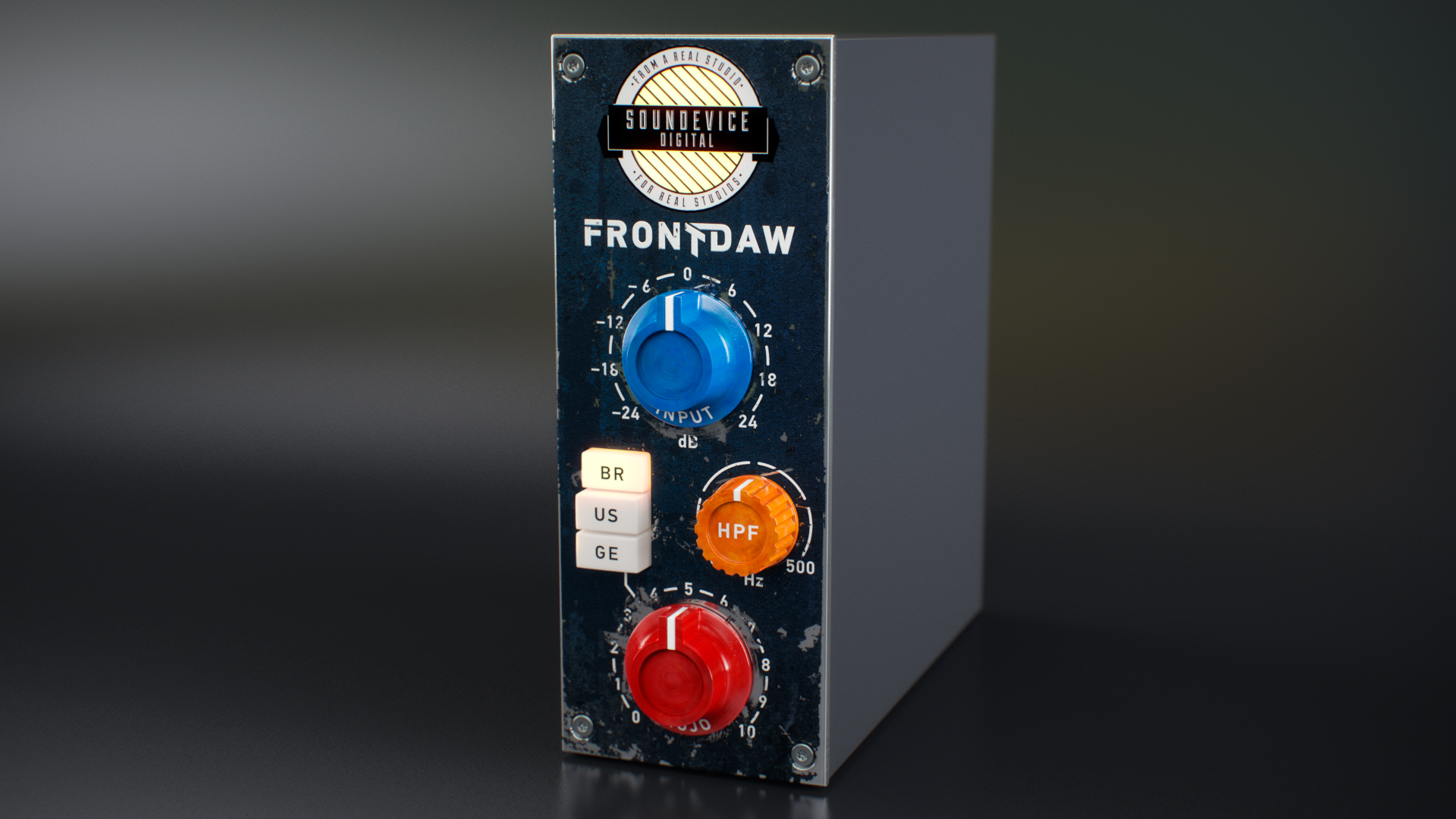 I'm honestly very impressed by this plugin, it sounds great, it's easy on CPU, the UI is super clean, adjustable and easy to use and it's very affordable.
The only thing that is missing and I would love to see in its future updates is to see numbers on controls while I'm adjusting something. I mean it's a personal taste and I do prefer to have that option.
Other than that, I absolutely love this plugin and will use it.
You can get a free trial and use it for 15-Days without any limitations and then decide whether if you want to buy it or not.
System Requirements:
Front DAW is available in VST, VST3, AAX, and AU formats.
MAC OSX Requirements
macOS 10.10 and later (M1 Silicon Mac and macOS 11 Big Sur supported)
64bit only
Intel/AMD processor with SSE2 support
VST2, VST3, AAX, or AU compatible host
WINDOWS Requirements
Windows 8 – 10
32bit or 64bit
Intel/AMD processor with SSE2 support
VST2, VST3, or AAX compatible host
If you find this article useful please share it with your friends. Also, don't forget to check out more blogs and news by clicking on THIS LINK.