A Free Synth Module Plugin With 22 modules!
Voltage Modular Nucleus 2 by Cherry Audio
This collection of 22 modules and 176 presets is the ultimate introduction to modular synthesis. This synth module package includes all of the fundamentals of subtractive analogue synthesis, including oscillators, filters, envelope generators, amplifiers, and mixers, plus a sequencer, arpeggiator, and a full suite of useful utility modules and powerful effects modules. With Voltage Nucleus, you can discover the thrill of patching modules together in new and endlessly creative ways and explore all of the capabilities of Voltage Modular.
Modular Synthesizer History
The first modular synthesizer was developed by German engineer Harald Bode in the late 1950s. The 1960s saw the introduction of the Moog synthesizer and the Buchla Modular Electronic Music System, created around the same period. The Moog was composed of separate modules which created and shaped sounds, such as envelopes, noise generators, filters, and sequencers, connected by patch cords.
The Japanese company Roland released the Roland System 100 in 1975, followed by the System 700 in 1976 and the System 100m in 1979.
By the 1990s,  modular synthesizers had fallen out of favour compared to cheaper, smaller digital and software synthesizers. German engineer Dieter Doepfer believed modular synthesizers could still be useful for creating unique sounds and created a new, smaller modular system, the Doepfer A-100. This led to a new standard for modular systems, Eurorack; as of 2017, over 100 companies, including Moog and Roland, were developing Eurorack modules.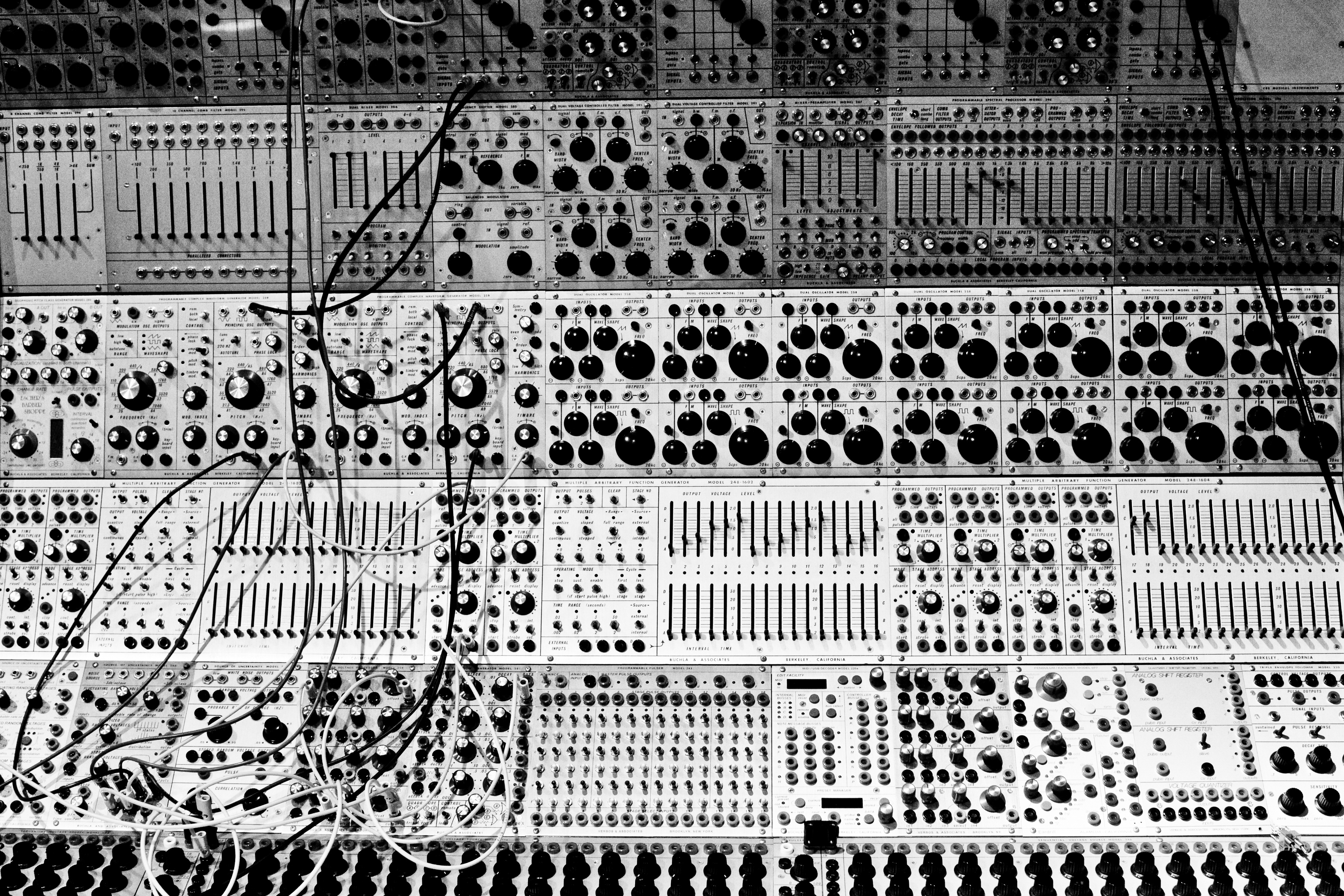 An Impressive Synth Module by Cherry Audio
Cherry Audio is thrilled to announce the highly anticipated release of Voltage Modular 2.0! This truly massive new release is completely FREE for all Voltage Modular users and brings innovative new features, workflow improvements, and new sonic possibilities to the realm of software modular synthesis. Voltage Modular 2.0 is the most feature-rich, sonically flexible software modular platform in the world.
Voltage Modular 2.0 blows away all patching limitations and introduces groundbreaking new ways to build complex patches with fewer cables. Unlimited cables per jack allow for endless modulation possibilities. The new Busses feature offers an ingenious new way to build complex patches and eliminate messy cables. Variations take modular synthesis in unprecedented new directions, with unlimited variations available per patch. Play variations individually, or use triggers or CV to move through variations in endless ways. The IO panel now includes an integrated Recording section, generating pristine 32-bit floating-point audio files, sourced from the IO Panel main left and right outputs. Workflow improvements are everywhere in Voltage Modular 2.0, from custom module categories and search terms to optional auto-alignment of modules in cabinets.
This synth module designed from the ground up to address the shortcomings of other virtual modular synth instruments. Featuring six-way pop-up mults on all inputs and outputs, super easy repositioning of modules or groups of modules, cables that can be moved and rerouted at all times, and control panels designed to be easy-to-read and operate with extensive visual feedback, including cable signal flow indicators, Voltage Modular offers a clean, polished, virtual modular interface like no other.
2. Fantastic Sound Quality
All audio processing in this synth module uses high-quality 64-bit double-precision math, and all module processes are zero- latency and operate on individual samples for true modular performance. This translates to the fantastic sounding audio-rate frequency and amplitude modulation, oscillator sync, insane delay feedback, and more.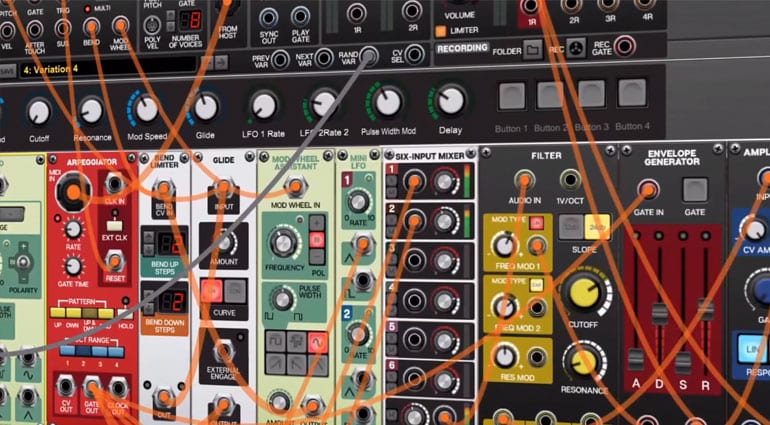 The innovative module browser allows users to purchase and automatically install modules and sound presets directly from within Voltage Modular for immediate expandability.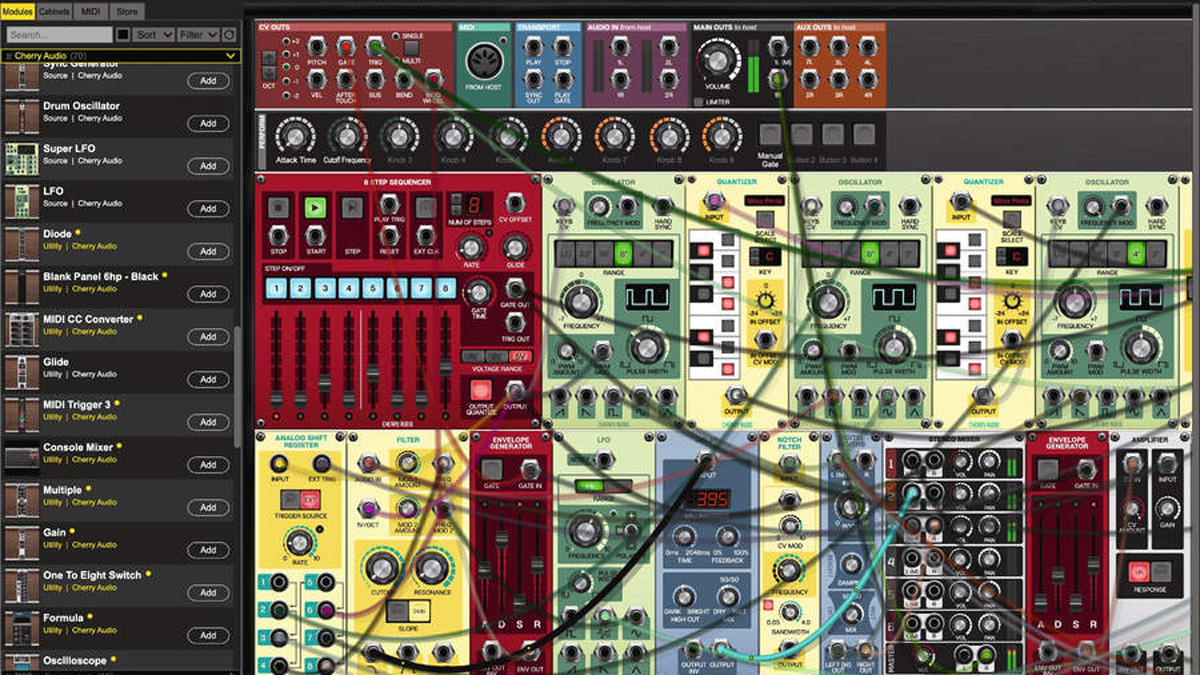 Utilities:
Amplifier
Attenuverter
Bend Limiter
Dual VU Meter
Glide
Multiple
Oscilloscope
Ring Modulator
Six-Input Mixer
Sync Divider
Effects:
Delay 
Distortion
Spring Reverb
Sources:
Mini LFO
Mod Wheel Assistant
Noise Generator 
Oscillator
Controllers:
Arpeggiator 
Eight-Step Sequencer
Envelope Generator
Presets:
Voltage Modular Nucleus Presets 
Important Note: Voltage Synth module is cross-platform for Windows and OSX in AU, VST, VST3, and Pro Tools AAX formats, and also runs standalone on both platforms. User patches and cabinets are freely exchangeable across platforms.
Mac OSX
OS X 10.9 or above
64-bit required
Quad-core computer with 8GB of RAM recommended
Windows
Windows 7 or above
64-bit required
Quad-core computer with 8GB of RAM recommended
If you enjoy this article and learned anything, please share this blog with your friends so they can learn something as well.
Stay Safe you all and have a wonderful time.