3 FREE PulTec EQ Plugin Emulation You Should Have!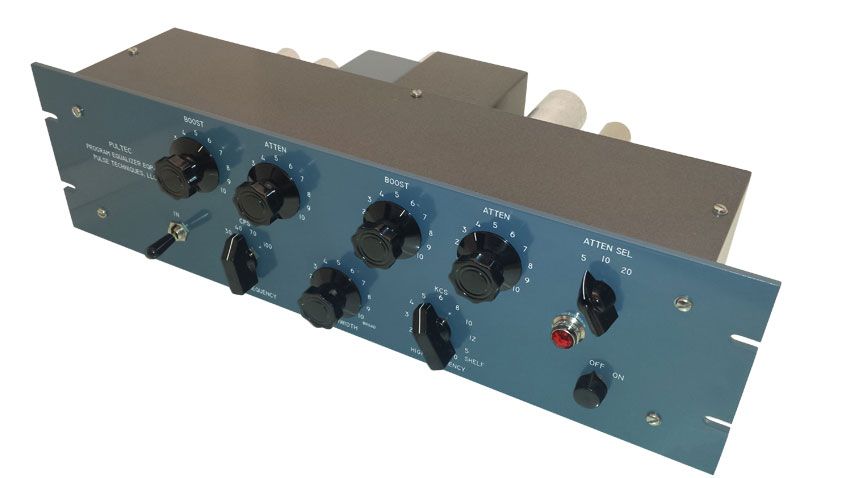 Pultec EQP-1A (Tube Equalizer)
The Pultec EQP-1A is a tube program equalizer designed via Eugene Shenk in 1951 year. This equalizer is still unsurpassed device model for treatment frequency in recordings among audio engineers worldwide. All family of original Pultec EQs, was originally designed to bring back the life and musicality lost in a recording. EQP-1A has been and still is used in major recording studios because of the exceptionally natural equalisation for highest and lowest frequencies and unique sound, arising from the use in the signal path three audio transformers, coils in the filter high frequencies and the output amplifier based on two classic tubes. All this gives a very smooth, almost velvety sound. This is the perfect device for the processing of the individual traces but also the whole mix so it can be used successfully in the work of mastering.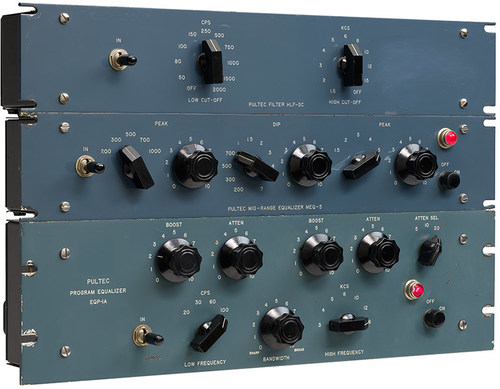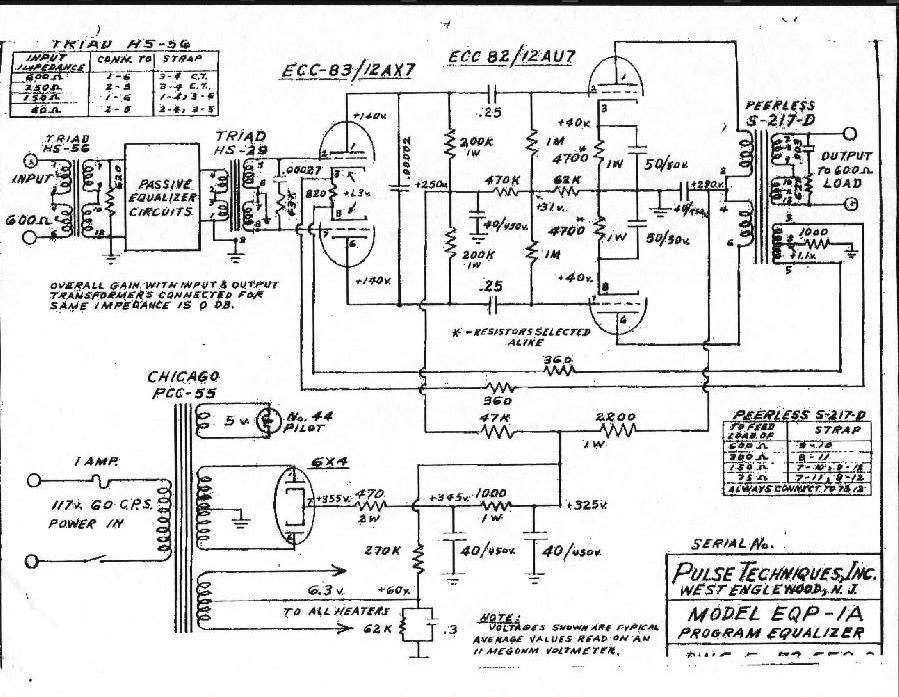 "This copy is built on the basis original scheme Pultec EQP-1A"
The Pultec EQP-1 is a full passive 3U all-valve equalizer and therefore needs an additional amplifier circuit. This is needed to restore the signal level that is reduced when an audio signal is fed into the unit, making the EQP-1A a no-loss passive equalizer. This means that the signal level remains the same regardless of whether EQ is switched in or out, which is very useful when comparing a flat signal to an equalized one. But more than that, it means the unit first drops the level and then boosts it again by using a valve design which ultimately adds harmonic distortion that in most cases adds depth to the sound. We'll explain this more in the next section. The low-frequency section of the EQP-1A is a shelving EQ, providing four selectable frequency bands at 20, 30, 60 & 100Hz. These frequencies can be boosted to a maximum of 13.5dB and attenuated (cut) by 17.5dB. The Pultec EQP-1A's signature effect, unintended by its designers, is its ability to seemingly boost and cut the same frequency simultaneously. In reality, the filters actually alter adjacent frequencies, but the naturally interactive resonant dip has an amazing boosting and tightening effect — especially on bass guitar and kick drums.
Here Are 3 Amazing FREE PulTec EQ Emulations
There are many companies, which provide PulTec EQ emulations, such as Universal Audio, Waves Audio, Acustica Audio, Nomad Factory, IK Multimedia, OverTone, Softube and many more. Although they all sound great and each has its own characteristic, they are not free. In this part, we are going to check 3 amazing sounding FREE Pultec EQ Emulations which are free. 
The 1st free Pultec EQ in our list is the Ignite Amps project was born in 2006, by the desire of two musicians to come out of the canons of the conventional amplification music market, trying to undermine the need to adapt to "pre-packaged" products. Our approach was simply to start building what we needed.
PTEq-X is a digital emulation of 3 famous vintage passive program equalizers.  It has been developed to have all the characteristics of the original hardware, plus some circuit improvements and additional features to increase its versatility. PTEq-X is meant to be used as a studio equalizer for tracking, mixing and mastering inside hosts capable of VST or AU Plug-Ins support. This of course is one of the best sounding Free Pultec EQ emulations out there. 
FEATURES:
Three different equalization modules with perfectly analogue curve response even at highest frequencies.
Ignite Amps 3rd generation triode stage analogue modelling for 4 different tube types.
Additional selectable frequencies for the PEQ1A model, compared to the original design.
Refined filters frequency precision for the MQ5 and HL3C models, compared to the original design.
Switchable equalizers and tube stage modelling for better CPU usage management.
Switchable linear-phase oversampling for aliasing reduction.
Global input/output level controls.
Mono / Stereo processing support.
Double precision (64-bit) floating-point processing.
Fully automatable controls.
Ignite Amps proprietary preset management system with bank file import/export functions.
Formats: VST / VST3 / AU
Support: Mac | PC
2. Analog Obsession "RareSE"
The 2nd free Pultec EQ is the "Rıdvan Küçük" (Tunca), Musician, hardware designer and plugin developer is the man behind Analog Obsession. He shares all his products on Patreon. Basically, you can get all of his products for free on Patreon. However, you can always support the developer and help them to develop new and exciting products by subscribing to their Patreon.
RareSE is a dual-mono, stereo, mid/side Pultec style equalizer. The modern-day re-creation of the legendary tube EQ plug-in "RareSE", can give your tracks the massive bass, silky air, and addictive warmth that made the original a studio standard. Juice your tracks with Mid/Side and Left/Right processing. Especially, created for bus processing and mastering with these features.
FEATURES:
Dual-channel, two-band equalizer built exactly like the original, legendary units.
Combines the vintage character of original units with the reliability of the modern design.
Oversampling for better processing.
Bandwidth control lets you decide how wide a range you're sculpting.
Separate boost & cut controls provide additional creative potential.
Mid/Side and Left/Right processing feature will give you better control on your tracks, busses or mastering.
Link feature for Mid/Side or Left/Right.
Formats: VST / VST3 / AU
Support: Mac | PC
The last free Pultec EQ is the SoniMus (Sonic Music) Company is highly regarded for products based on advanced digital signal processing techniques, applied to audio engineering. They may be paranoiacs, but the company live by the following words: "If it's not perfect, then it's no use." So they dedicate eight hours a day, Monday through Friday, to new product development just to make it possible for almost everyone to achieve and create the best sound quality for their music without losing the focus on the music itself. It's the age of creativity and we no longer can accept the limits. Let's make the music sound better than ever!
The "SonEQ" is a 3 band equalizer and includes a "low-pass", as well as a "high-pass" filter.  The interface is simplistic and is good for creating natural-sounding, broadband equalization curves. Design-wise, Sonimus made some interesting, albeit unnecessary choices.  The primary offence is a "VU Meter" that is used to measure the drive function – essentially this "VU" doesn't truly serve a purpose, as it simply indicates that more harmonics are being added, something any user would understand by simply increasing the drive function.
FEATURES:
3 band Equalizer, Low, Mid, High.
2 Musical Filters, High-Pass & Low-Pass.
Preamp stage with a bass booster.
64-bit floating-point precision.
Up to 192kHz sample rates supported.
Formats: VST / VST3 / AU / AAX / RTAS
Support: Mac | PC (32 bit / 64 bit) 
If you enjoy this article and learned anything, please share this blog with your friends so they can learn something as well.
Stay Safe you all and have a wonderful time.