Top 5 Ableton Controller In 2021
An Ableton Controller is one of the most useful investments you could possibly make if you're a digital music composer and you are using this DAW. You may be skilled at playing various instruments, recording, DJing, and compiling all sorts of sounds, but it's all a nuisance. 
While sitting in front of the computer, the finest Ableton controller will assist you in recording, composing, and sampling your creative musical creations. You'll need to pair the controller with the appropriate software, but having a computer on hand can help you get started with music.
Force provides a complete DAW-like experience, replete with MPC Series deep sampling and sequencing capabilities. Use the audio inputs to record your own samples and loops, or import them from a USB or SD card. You may also add your own SATA drive to Force to increase its capacity.
Synchronizing samples and loops is simple and quick thanks to real-time time-stretch techniques and auto bpm identification. For fast mashups, you may even import numerous stems and sync them to the same tempo. The Akai Professional Force is a strong tool whether you're working in your studio or playing on stage, thanks to its highly playable 8 x 8 matrix, vibrant 7″ multi-touch screen, and built-in synth engines.
If you currently use Ableton Live DAW software to create music, the Akai Professional Force is a great complement to your setup.
Everything you accomplish in standalone mode with Force can be saved as an Ableton Live Set and imported into Live for editing. Because Force is Ableton Link compatible, you may connect it to your wireless network and sync your project with any Ableton Link–compatible software or gear, including the MPC series from Akai Professional. Force is also a fantastic controller for Ableton Live's drums, instruments, and clips on top of all of that.
64 backlit velocity/pressure-sensitive pads
8 touch-sensitive knobs with OLED displays
1 Data knob
56 buttons
Crossfader
Navigation buttons
150 x 93mm (width x height) touch display
2GB RAM
16GB storage, ships with 10GB content
Expandable with HDD or SDD SATA drives internally
Reads audio files in AIF, WAV, FLAC, MP3, OGG formats
Front connections: 1/4-inch headphone output, SD card slot
Rear connections: 2 XLR+1/4-inch inputs, 4 1/4-inch outputs, MIDI In/Out/Thru connections on 3.5mm jacks, 4 CV/Gate outputs, Ethernet Link port, 2 USB A ports, 1 USB B port
Automatic Key-group multisampling is ace
2 - Ableton "Ableton Push 2"
The LCD on the Ableton Push 2 Controller Instrument is bright. The multicolor display adapts as needed to show you exactly what you need to know. There's enough information here to keep you in the zone without getting in the way of your creativity.
The buttons and pads have been upgraded, and the push pads have been meticulously designed to feel exactly perfect regardless of the music you listen to. It also has smooth control buttons that are practically flush with the surface and provide a slight click when pressed.
If you've ever heard the phrase "less is more", this instrument is a perfect example. It's smaller and lighter than its predecessor, making it easier to travel from stage to studio and back.
The silicon pads are gentle and precisely designed to react at any speed. Touch activates the high-velocity encoders.
64 silicone pads with RGB lights and user
adjustable dynamics
RGB display enables viewing of text, icons,
waveforms, meters
11 endless encoders
Backlit buttons
17cm touch strip
Two pedal inputs
Included Live 9 Intro software registration card, USB cable, international mains power supply (Live 9.5 or higher is required to use Push 2)
Colorful and bright display
Improved buttons and pads
Lighter and thinner than the previous model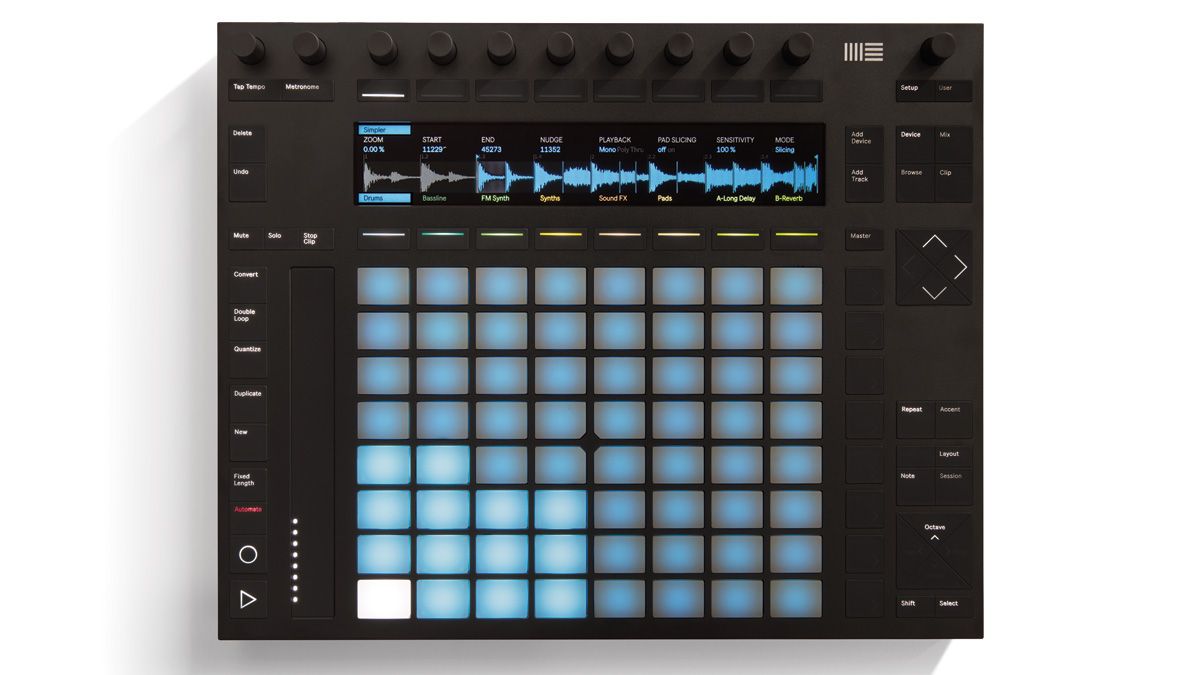 3 - Novation "Launchpad Pro MK3"
The Novation Launchpad Pro MK3 grid controller becomes your centerpiece for music composition when paired with Ableton Live DAW software. You can launch films and scenarios, play melodies and chords, change mixer settings, and more using a set of 64 pressure-sensitive RGB pads.
Create whole songs with the four-track, 32-step sequencer on the Launchpad Pro MK3, which includes probability and mutation settings for ever-evolving creativity. You also get fast access to Ableton Live's Capture MIDI feature, ensuring that you never miss a creative moment. The Novation Launchpad Pro MK3 comes with a copy of Ableton Live Lite and an Easy Start Tool to help you get started making music fast, even if this is your first introduction to Ableton Live and the Launchpad series.
The first Launchpad gave you an instrument-like experience by allowing you to play notes and trigger drums, but the Launchpad Pro MK3 ups the ante significantly. Because Novation included specific Chord and Scale Modes on the Launchpad Pro, this is the case. Chord Mode allows you to experiment with different chord voicings and harmonies direct from the grid. Scale Modes set the pads to certain notes automatically, preventing you from playing out of key. 
The Novation Launchpad Pro MK3 controller not only has incredible playability but also offers you instant access to all of your mixing controls. This allows you to modify settings while performing without interrupting your flow. There's no separate mixing mode to stifle your creativity; simply press and hold a button, make a change, then release the button to return to your performance. It's truly that simple to adjust channel levels and panning, as well as AUX send levels and other settings.
Improved Ableton Live integration, including track select and Capture buttons
Good onboard step sequencer with four tracks and 32 steps
Chord mode for one-finger jams
New custom modes as seen on Novation's recent Launchpad X and Mini MK3
Great standalone sequencer option
Comprehensive Live control
Sleek hardware with great-feeling pads
Navigation can be complex without a screen
4 - Akai Pro "APC40 mkII"
With an Akai Professional APC40 MKII controller, you can have critical hands-on control over Ableton Live. This Ableton Live controller with USB power features 40 clip-launch controls grouped in a 5 x 8 grid that's ideal for live performance or remixing.
A set of 9 low-profile sliders is also included, allowing you to manage volume, pan, and other main features. The Akai Professional APC40 MKII controller is smart enough for studio and stage, thanks to a useful collection of soft buttons that provide quick access to functions you use frequently.
The APC40 MKII is the all-in-one solution for an ultra-portable Ableton Live controller. You'll love the plug-and-play configuration for creativity, recording, and concerts because it's designed particularly for Ableton Live. Simply connect it to your computer and start Ableton – whether you're a seasoned electronic musician or new to the notion, the APC40 MKII controller's small form, easy workflow, and flawless 1-to-1 integration will have you playing music in no time.
The APC40 MKII's compact design makes it perfect for mobile performers and studio producers alike. Set up your scenes and setlist at home, throw it in your backpack along with your laptop and you're ready for the gig. USB power means you'll never forget a power supply and with the plug-and-play integration you'll be set up and ready to perform in seconds.
Hands-on control of Ableton's Clip Matrix, mixer parameters, virtual instruments/effects, and more
Create, Jam, Produce – Trigger clips, loops, and samples using a 5×8 clip-launch matrix with RGB feedback for clip status and color-coding
Essential Control – Take command of DAW parameters, virtual instruments, and effects with 9 channel faders, 8 control knobs, and 8 device controls that seamlessly map with Ableton Live
Conveniently located assignable A/B crossfader for dynamic DJ-style mixing on the fly
USB-powered plug-and-play connectivity for Mac and PC
A refresh to the classic APC40 design – it looks sleeker and more functional, with a reorganized layout
Now has RGB LEDs – it will show your clip colors
Buttons aren't velocity-sensitive
Whether you're producing your first track or sharpening your skills, the Beatmaker Kit has everything you need to take your beats to the next level. Learn how to play finger drums, experiment with hundreds of expressive sounds, and finish your track with a software package. It's a one-stop-shop for generating beats, no matter where your musical inspiration strikes.
Edit and complete your track with powerful production software. Beatmaker Kit comes with a custom version of Ableton Live Lite, and it's also compatible with a huge range of other digital audio workstations (DAWs) including GarageBand.
Your beat will be transformed by the Lightpad Block's 5D Touch surface. On a haptic, touch-responsive surface, pound away. By pushing into the surface and gliding or sliding across it, you may give melodic portions unrivaled emotion.
Melodics, the desktop programme for learning beat-making techniques, makes finger drumming enjoyable. Start with the fundamentals and work your way up to more complicated designs. 
Play drums and melodies | shape sounds with 5D touch on the light pad Block's expressive surface
Gives you shortcuts to useful production techniques, so you can build your tracks even faster. Record loops, play them back, Set your tempo, and more
Wireless, lightweight, and with a surface The size of a postcard, empowers you to create tracks anywhere
Beatmaker Kit Includes over 300 sounds in desktop and mobile applications. All sounds are custom-made for 5D touch on the light pad Block's unique surface
Mobile and Tablet Requirements-iPhone 6 or newer, iPad Air 2 or newer, iPad Mini 4 or newer, iPad Pro (9.7, 10.5, and 12.9 inches), iOS 9.0 or above, Google Pixel or Pixel 2 (Limited support)
Lightpad Block is a solid, innovative control surface
The actual sounds contained in Noise are high quality
Noise app is severely lacking in terms of 'pro' features
Third-party control requires considerable assignment and setup time
Ableton Live is a one-of-a-kind piece of software. Not only can you use it to DJ and compose music, but you can also use it to play music by just using a laptop.
Nevertheless, there is a wide range of Ableton controllers on the market nowadays that have excellent performance and come pre-mapped and ready to use with Live. Ableton controllers have a lot of great functions, and you should spend some time learning about them.
Eventually, after you've experienced all of the enjoyment and creativity that Ableton controllers have to offer, you won't be able to stop using them. 
It might be difficult to choose between several MIDI controllers for Ableton Live, especially if you don't have much expertise. I hope you found this list useful, and that it assisted you in selecting the finest Ableton Controller for you.